Hotel Katerina is perfectly situated at Mylopotas on Ios Island overlooking the bay and offering stunning view of the beach and the sunset.

Mylopotas -3 Km from Ios' capital Hora- is the most popular resort on Ios Island and the long sandy beach (over 1 Km long) claims to be one of the best in Greece.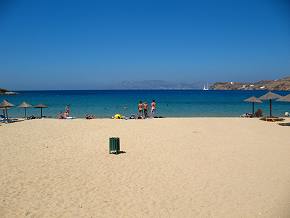 Shops, clubs, restaurants, watersport facilities are just few of the amenities within easy access from our Hotel.
Ios Island is a very beautiful and picturesque Greek Island with excellent sandy beaches and hundreds chapels. Its pretty Hora (capital), is a dazzling mix of white washed houses and blue domed churches.
Hora (Village) the island's capital, is one of the finest towns in Cyclades. Built on the top of a hill, with medieval castle (built in 1400), white washed houses, maze streets, churches and a dozen of windmills reminding you of past days, when the islanders used the wind power efficiently to make their windmills work.